Products
Courtney's fresh Body Beef is supplied by Highchester of Beaudesert who purchase from local shows & sales. They bid for prize winning cattle & also supply Courtney's with fresh lamb, pork & veal. We know where our meat grows and what it eats. The body beef is lower in Amines which falls within the Failsafe Diet Criteria.
Courtney's source meat products from Tasmania, King Island, the Murray Valley & Qld. Special request are easily sourced by our suppliers.We carry a wide range of products to suit a variety of budgets and tastes. A selection of our products is included here. Please contact us for more information on products, current promotions and specials.
~Gourmet Selections~
Certified Angus Rump - Guaranteed Tender




Murray Valley Rib Fillet




Chicken Kiev - Chicken breast fillet with a pocket of garlic butter in a crusty coating




Victorian Racks of Lamb & Cutlets - we can french trim




Greek Lamb Rib Fillets




Chunky Meat Kebabs - Plain, Capsicum & Haloumi or Marinated




Beef Stir Fry - Perfect for a quick and easy meal




Thick Meaty American Spare Ribs




Fillet Mignon - Pork or Beef fillet wrapped in bacon with our delicious spices




Leg of Lamb - with fresh garlic, rosemary & cracked pepper




Premium Beef Mince - Fresh daily




A variety of low fat sausages - BBQ Pack Thick beef sausages are delicious baked in the oven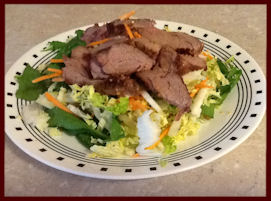 Naked Unadulterated Lamb Rump! B.B.Q, Baked or Pan fried - it's quick & easy 10 mins preparation & cooking. It doesn't matter how you serve it up, on a Salad as in Thai, on Cous Cous as in Greek or a favourite of Ozzies Lamb Roast & Veges!
Tender Australian Lamb Only needs a pinch of salt, quick cooking time, stand it for a few minutes so it retains the juice, then serve up! A little pink in the centre is perfect! The Unadulterated Delicious, Juicy Flavour will keep you savouring more....
It'll make the men put down their beers, the kids stop still in their tracks & the women can sit down & relax....
We can save our Greek Lamb Fillets, Marinated Italian Lamb Roast, North African Merquez Lamb Snags, Lamb Shanks & Diced Lamb for another day!
Remember you are eating Australian Bred & Raised Lamb! Straight from green pastures.. the most Organic food you'll find.